Tinacria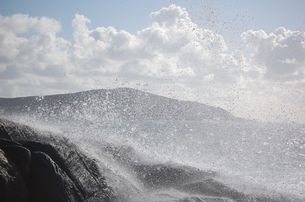 Name: Tinacria
Type:  Steam
Nationality:  English
Date: 07/02/1893
Place: Lucín inlet
In the Lucín shallows, between Boi point and the Baleas de Tosto, the English steamer Tinacria was lost with great loss of life. It was sailing from Glasgow to Livorno, via Gibraltar to Genoa. Its cargo was bricks, coal, iron and wax.
The conditions, that night of 6 to 7 February 1893, were terrible. A severe storm, with westerly winds, was complemented by heavy fog, which impeded their vision of the Vilán lighthouse. In these circumstances the Tinacria ran aground at six in the morning on the 7th. Of the 37 people aboard (33 crew and four women passengers), only seven members of the crew were destined to see daybreak.
As vision improved they could still see the ship's hull, dismantled and constantly buffeted by the waves. All that was left was to recover the bodies the sea washed up along the coast and for the local people to take care of their burial in the places where they appeared.
A few days later, the sea washed up a tangled mass of wax, bits of the sails, pieces of wood and dead bodies. It was impossible to untangle this macabre ball, so the whole thing was doused with petrol and set alight.
The place has been known ever since as the "cavern of the burnt bodies".