Nord Atlantic
Name: Nord Atlantic
Type: Oil Tanker
Nationality:  German
Date: 05/08/1943
Place: Quebrantes del Medio (Camariñas estuary)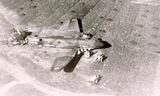 German oil tanker Nord Atlantic ran aground in Quebrantes del Medio, at the entrance of the Camariñas estuary. It was escaping from the allied aeroplanes to take refuge within the estuary. But it had left behind a trace of gas.
The neighbourhood used small boats to collect gas from the so-called "gas ship". This happened on 5 August 1943.
Seven days later, a badly damaged Focke Condor flew over the estuary, making an emergency landing on a corn plantation. As luck would have it, one of the plane pilots and the Nord Atlantic commander met in Camariñas, not having seen each other since the beginning of World War II. They were brothers.