Olimpye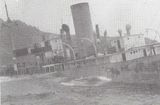 Name: Olimpye
Type:  Merchant
Nationality:  French
Date: 15/04/1955
Place: Trece inlet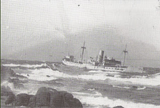 In the early hours of 15 April 1955, an old French 5300-ton merchant ship sank. It was carrying 4800 tons of cement from Brest to Istanbul.
The load is still visible today under the waters, as the cement hardened in its sacks at the bottom of the sea.
Her 27 crew members were rescued by a fishing boat from Camariñas.